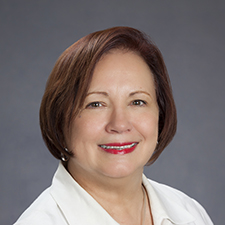 Carmen Bou-Crick
Head, Reference and Education


cbou@med.miami.edu


(305)243-1967
Carmen Bou-Crick, MSLS, AHIP, is Librarian Associate Professor in the Department of Health Informatics and Head of Reference and Education at the Louis Calder Memorial Library since 2013. Previously, she held the position of Head of the Pomerance Library & Resource Center, a departmental library for faculty, residents, and other clinicians in the Department of Psychiatry & Behavioral Sciences (1989-2012).
Carmen has a Master's of Science with major in Library Science from Florida State University (1981) and a Bachelor of Science with major in Chemistry from the University of Puerto Rico (1966). She is member of the Beta Phi Mu International Library Science Honor Society (1981) and Distinguished Member of the Academy of Health Information Professionals of the Medical Library Association (2014).
Carmen is member of the Medical Library Association (MLA), the Florida Health Sciences Library Association, the MLA Southern Chapter, and the Florida Health Sciences Library Consortium. She is actively involved in various committees.
At Calder Library, Carmen serves as liaison to Psychiatry, Clinical Psychology, Nursing, and Medical Education. She developed the Personal Librarian Program for medical students and continuously develops curricula for a variety of graduate students, residents, faculty, and staff. She is a member of the Nursing Research and Evidence-Based Practice Council at Sylvester Comprehensive Cancer Center and provides library support for nursing research.
If you would like to schedule an appointment with Carmen, please use the button below.