Personal Librarians By Society
Personal Librarian Program at UMMSM
The Personal Librarian Program (PLP) has been created by professional Medical Librarians at the Louis Calder Memorial Library as a way to reach out to students on the medical campus. The program matches students with a librarian as they enroll in medical school. Assignments are made according to the Academic Societies to which students are assigned as they are accepted in any of the medical school programs (MD or MD/MPH). Personal Librarians will serve as a point of contact for the library.
Your Personal Librarian will provide you with the following information throughout your stay at the University of Miami Miller School of Medicine:
New resources and/or services in the Library:
New acquisitions (databases, book collections, etc.)
Special Library hours during exams and holidays
New study areas, facilities, or services
Answer questions about Library services, policies, and procedures and other Library-related information:
Access Services (course reserves, electronic resources, printing, study rooms, etc.)
Document Delivery (finding e-journals, ordering articles through Interlibrary Loans, etc.)
Remote Access instructions
Mobile access to resources/creating personal accounts in databases, etc.
Assistance finding information for research projects:
Articulating good research and/or clinical queries
Identifying the best databases to search
Using citation managers (EndNote, RefWorks, and/or Mendeley)
Finding additional resources
Personal Librarians will not:
Make copies of articles for students
Perform literature searches that have been assigned to students
Do students' assignments for them

Relevant Links to Find Information:
University of Miami
Miller School of Medicine
Calder Library
Department of Learning, Research, and Clinical Information Services
Relevant Resources for Medical Students
This guide provides multiple links to resources that are useful for medical students. This guide is being updated by Kelsa Bartley.
Evidence-based medicine is the practice of integrating clinical expertise, the highest quality research available, and patient values to make the best decisions for patient care. This guide is being updated by Barbara M. Sorondo.

Online Tutorials

This guide provides easy access to tutorials for the most popular databases and software applications available to our patrons. This guide is being updated by Kelsa Bartley.
Meet your Personal Librarians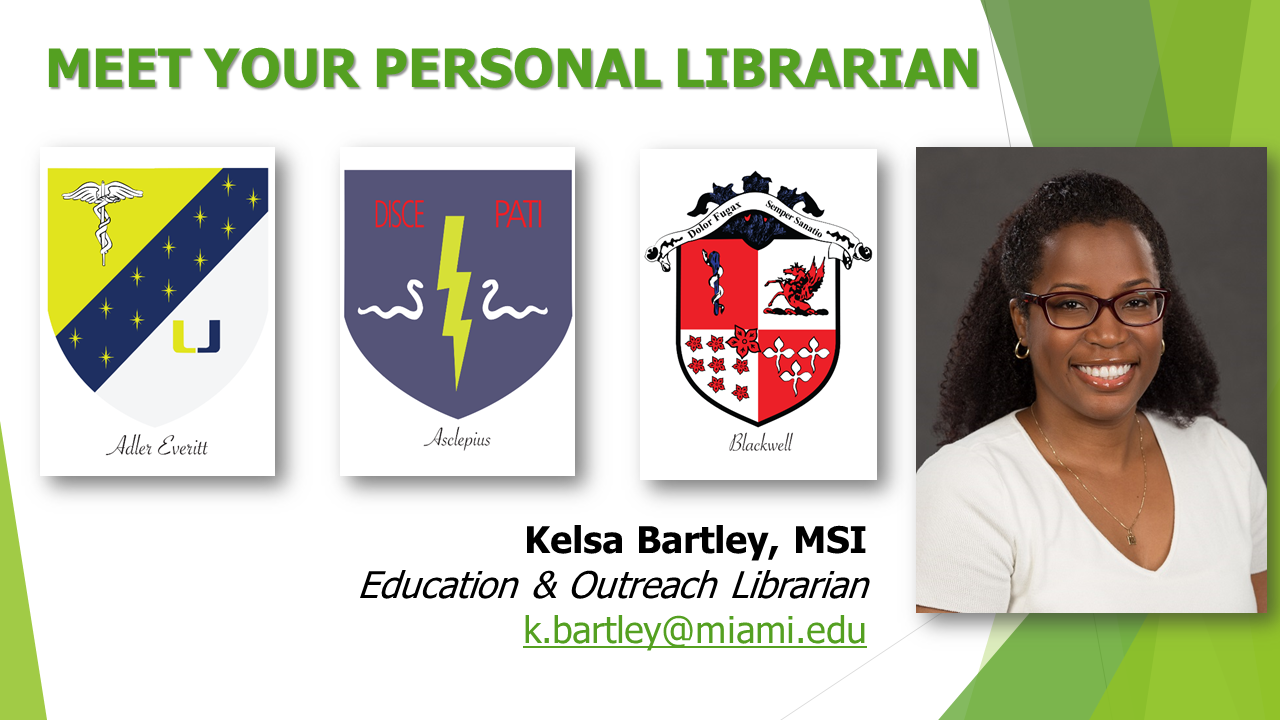 Kelsa Bartley, MSI
Academic Societies: Adler-Everitt, Asclepius, Blackwell, Hunter
Email: k.bartley@med.miami.edu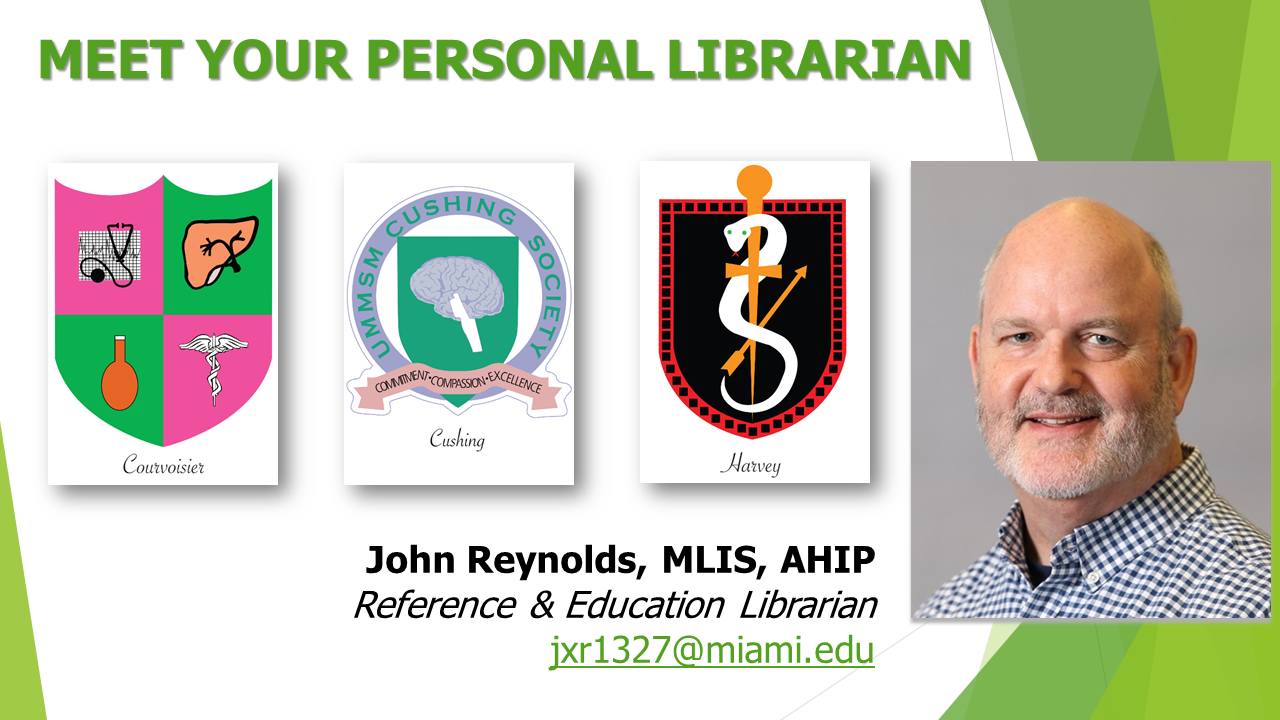 John Reynolds, MLIS, AHIP
Academic Societies: Courvoisier, Cushing, Harvey
Email: jxr1327@miami.edu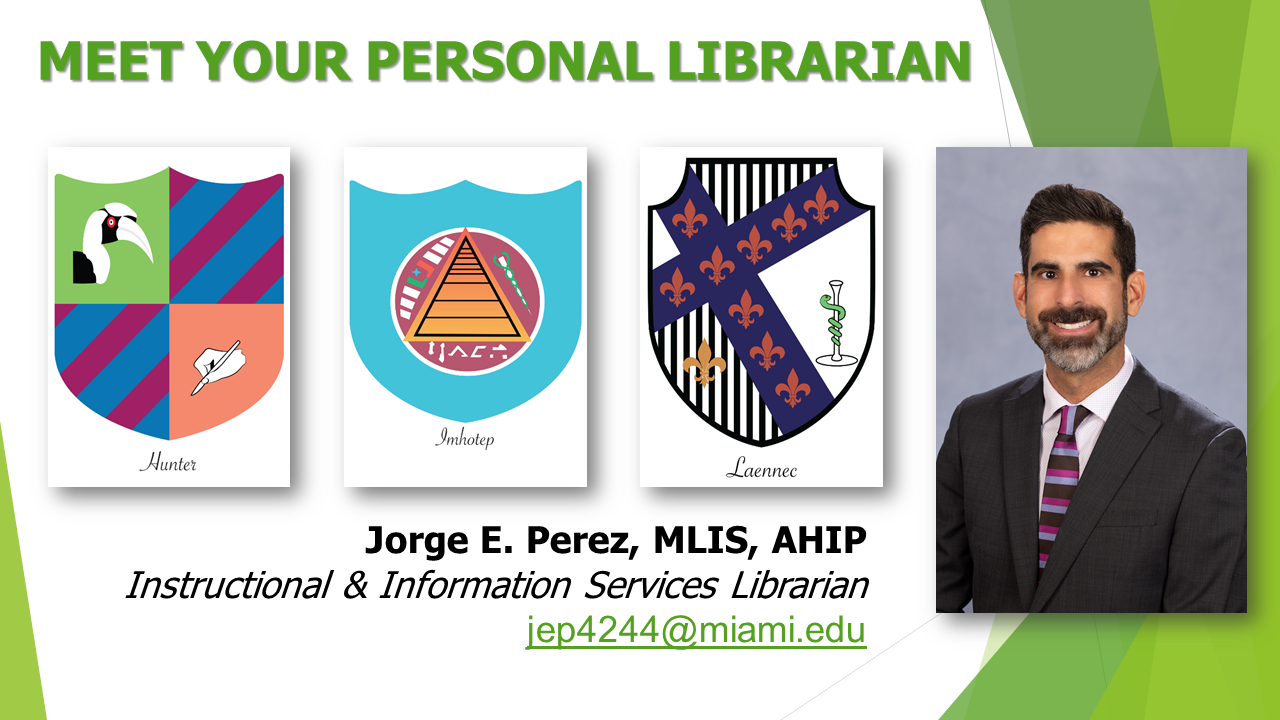 Jorge E. Perez
Academic Societies: Hunter, Imhotep, Laennec
Email: jep4244@miami.edu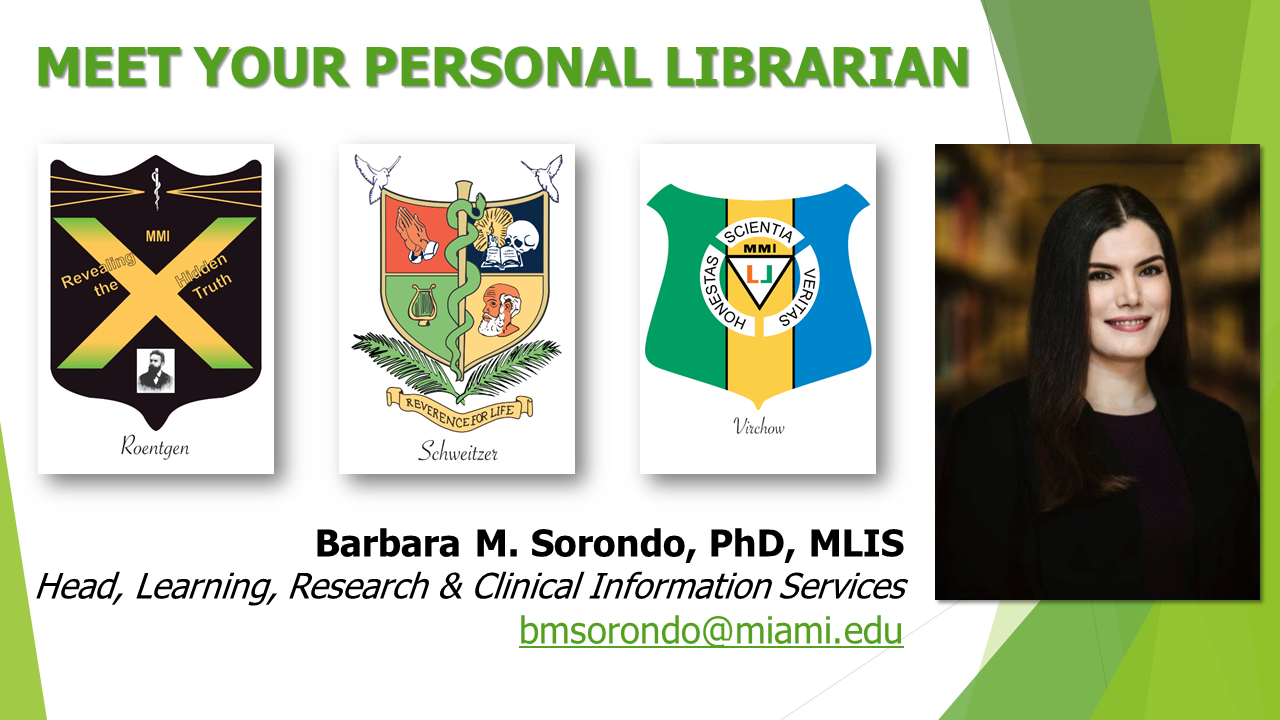 Barbara M. Sorondo, PhD, MLIS
Academic Societies: Roentgen, Schweitzer, Virchow
Email: bmsorondo@miami.edu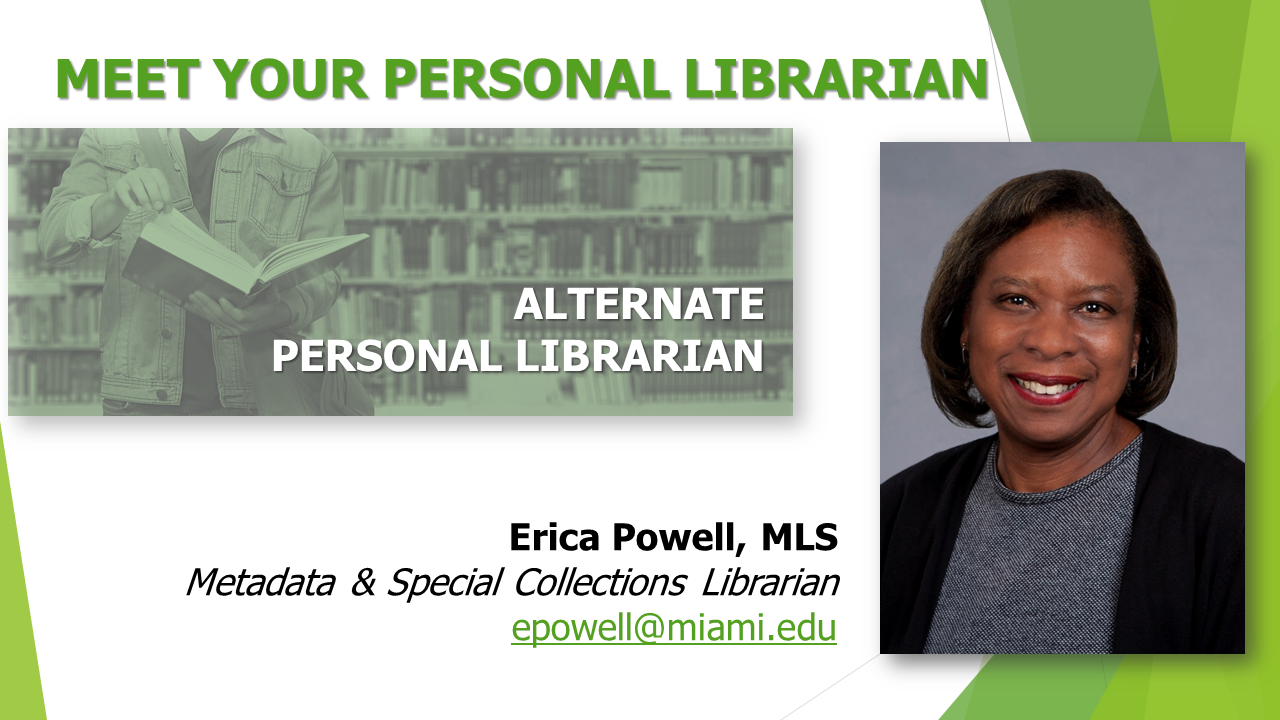 Erica Powell, MLIS
Alternate Personal Librarian
Email: epowell@miami.edu