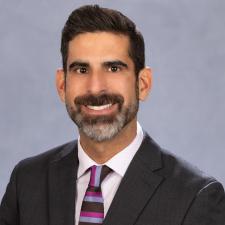 Jorge E. Perez
Instructional and Information Services Librarian


jep4244@med.miami.edu


(305)243-5439
Jorge E. Perez joined the University of Miami at the Louis Calder Memorial Library at the Miller School of Medicine in February 2022 as the Instructional and Information Services Librarian.
Before joining UM, Jorge served as the Digital Learning and Information Technology Librarian at the Herbert Wertheim College of Medicine at Florida International University (FIU) Medical Library. He has worked in academic libraries for over twenty years serving diverse students with their research needs while infusing emerging technologies into their learning experiences.
Jorge has attained an Educational Specialty Degree (EdS) from the Teaching and Learning program at FIU, a Master's of Science in Counseling and Psychology from TROY University, and a Master's of Library and Information Science from the University of South Florida (USF).
Jorge has been awarded the Academy of Health Information Professionals (AHIP) Distinguished Level certification and has Consumer Health Level II specialization through the Medical Library Association (MLA).
For assistance with research projects and other library-related services, please contact Jorge at
jep4244@miami.edu